Welcome!

Rubber Baby Buggy Bumpers has the largest selection of baby equipment for rent in Edmonton, without breaking your traveling budget. Pack light and enjoy the convenience of renting top-of-the-line baby equipment when you visit Edmonton, Leduc, St. Albert, Sherwood Park, Stony Plain, Devon or Spruce Grove! Plus, ask us about our rental packages and you'll benefit from discounts and FREE items with your baby equipment rental.

Rubber Baby Buggy Bumpers offers reliable baby equipment that makes traveling with your baby easy and convenient in and around Edmonton. Choose from a full range of the latest baby gear, including infant and child car seats, folding cribs, pack 'n plays, strollers, highchairs, swings, bouncers, safety products and more. If you require baby equipment that is not listed in the product sub headings, let us know and we'll get it for you! We'll provide your little ones with the safest and most appropriate equipment available to make your stay worry free!
Open 7 days a week to meet all your rental needs.

Delivery or Pick-up. You Decide!
Have your rental delivered to the location of your choice (airport, hotel, residence, business); or pick-up from our convenient location.

Safety and Cleanliness are our Priorities!
Rest assured you'll receive equipment that is:

In brand-new condition
Meticulously cleaned with environmentally friendly product
Safety inspected
Monitored for safety recalls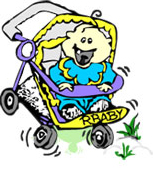 RBabyRentals.com
We rent the finest Baby Equipment in Edmonton and offer prices that won't empty your pockets! We also provide discounts that meet your traveling needs! If you don't see the item you want, no problem. Let us know and we'll get it for you.
Call us today at (780) 918-2229, or fax us a hello at (780) 443-6499!